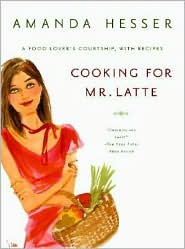 About: Cooking for Mr. Latte is a modern dating story, recipes included. It's the true story of the courtship between Amanda Hesser, a food writer for The New York Times and author of the award-winning cookbook The Cook and the Gardener, and writer Tad Friend, the titular Mr. Latte. Her tale ends happily ever after, but has enough ups and downs to keep it interesting. Food is an important aspect of Hesser's life (though it wasn't for Mr. Latte when they met, making for some of the downs in the ups and downs), but it's not until you notice how seamlessly Hesser weaves her meals into her story that you realize how much of our lives and our memories revolve around food. Leora Y. Bloom – Amazon.com Review.
My Thoughts: I picked up this book on a whim at the local public library. I'd never heard of Amanda Hesser, but was intrigued by the book's premise. I mean, who doesn't LOVE love? Prior to delving into the book, I performed a Google search to learn more about the author. According to Wikipedia, while Hesser was filling in as the lead restaurant reviewer for the Times, she gave three stars to Spice Market, but failed to note that the chef of the restaurant, Jean-Georges Vongerichten, had written a back-cover blurb for Cooking with Mr. Latte. How scandalous! It seems that New Yorkers still haven't forgiven her for that misstep.
I finished this book in under a day, not because it was amazing, but because I was stuck on a long train ride. Even though she overused the word "tangle" to describe food and flavors, I found the book sweet (in a saccharine sort of way). Her romance with Mr. Latte was predictable and practical, and thus very boring. The chapters I enjoyed most were the ones where she unleashed her food snob and food agenda onto unsuspecting people. I really appreciate people who are opinionated about their food.
Chapter 26, entitled "Fine Dining in the Sky," was especially awesome. Hesser has an irrational fear that she will die on board an airplane. As a result, whenever she flies, she packs along gourmet foods like roasted and salted almonds, prosciutto and butter sandwiches, and asparagus and goat curd salad with blood orange vinaigrette, just in case it's her last meal. What a lovable freak.
Click here for a hilarious post in response to Hesser's review of Spice Market.