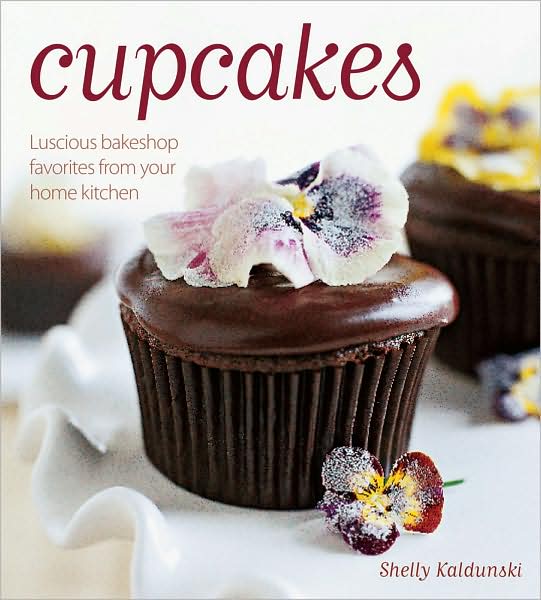 About: Cupcakes are everyone's favorite little indulgences. They're loved by kids and adults alike because they're playfully sweet as well as utterly charming. These days, cupcakes can be found in bakeries everywhere, but with just a little know-how, you can easily bake your own tempting boutique-bakery cupcakes at home and decorate them with flair.
Cupcakes contains recipes for every palate: Here you'll find classic Yellow Cupcakes with Chocolate Buttercream for the traditionalist, Triple Chocolate Cupcakes for the chocaholic, PB&J Cupcakes for the kids, Salted Caramel Cupcakes for the epicurean, as well as seasonal holiday cupcakes, and dozens more. Whether you are a novice or experienced baker, inside these pages you'll find friendly advice about ingredients and equipment, cupcake-making and baking tips, and a collection of ideas for decorating your cupcakes with either elegant minimalism or grand flourishes. —Simon and Schuster.
My Thoughts: It's no secret that I love cupcakes, so I was thrilled to receive Cupcakes the book this past Christmas from The Astronomer's thoughtful parents. The 128-page beauty is divided into seven sections. The introductory chapter, "All About Cupcakes," explains baking basics and techniques, which is a must-read for novices and experts alike. Next, the book devotes four sections to various genres of cupcakes including "Basic" (vanilla, chocolate, yellow), "Fruit & Nut" (lemon blueberry crunch, sour cherry-almond, banana caramel),  "Chocolate" (Mexican chocolate and red velvet) and "Special Occasion" (tres leches, tiramisu).
The sixth section focuses on "Frostings, Fillings & Finishes" and includes excellent infusion ideas for jazzing up classic frostings like buttercream and cream cheese. Perhaps the most unique section of the book is the final one, "Creative Cupcaking." It is a two-page, user-friendly diagram that suggests how to mix and match the book's various recipes for frostings, cakes, fillings and garnishes to create innovative new cupcakes—this section really gets the creative juices flowing.
The first cupcake I made was the red velvet with cream cheese frosting. Everything was going swimmingly up until the point when I realized that the instructions did not inform me when to add the egg. Doh! Luckily, the cupcakes turned out well even though the egg was incorporated into the batter haphazardly. I cannot believe that such an important step was omitted from the instructions! Clearly, each recipe was not as meticulously tested (and edited) as I had expected from a published work. What a shame!
Although I initially loved this book for its fabulous photos and abundance of inspiration, the egg situation left a figurative bad taste in my mouth. I'm not ready to give up on Cupcakes completely, but I will proceed with extreme caution.