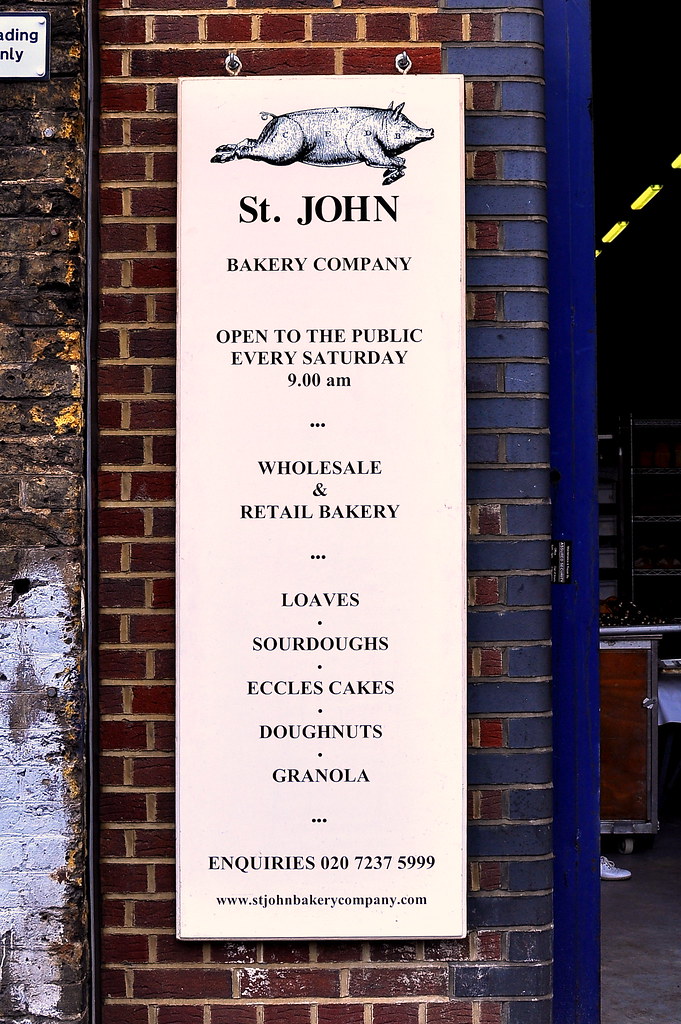 Doughnuts have a way of finding me. While researching Chef Fergus Henderson's St. John restaurant, I stumbled upon St. John Bakery, his wholesale baked goods operation. In addition to hearty loaves of all stripes, the bakery is famous for its exquisite yeast-risen, filled doughnuts. I thanked my lucky stars that our short stay in London included a Saturday, the sole day each week when the bakery is open to the public. Clearly, it was meant to be!
The Astronomer, my mom, and I dragged our jet-lagged bodies out of bed far too early on Saturday morning for our date with doughnut destiny. The bakery is only open from 9 AM to 2 PM, so it was imperative that we arrived before everything was sold out. Joining us was the lovely Su-Lin of Tamarind & Thyme, a mighty fine food blogger and London resident.
Two tube lines and nearly an hour later, we arrived at Arch 72, where a bountiful selection of breads and pastries awaited us.
This morning's jam doughnut (£2) was filled with an apple and rhubarb mixture. Jelly doughnuts have a way of being either too sweet or too much of a good thing, but the version here was perfectly sticky and sour and balanced. If our eating itinerary weren't so jam packed, a dozen jam doughnuts would've come back to the hotel with me.
Equally superb were the classic custard-filled doughnuts (£2). The cream was lighter than expected, while the sugar-dusted dough was as ideal as I had hoped. What impressed me most was that even though the dough wasn't freshly fried, it tasted like it had been—fresh and fluffy. St. John's doughnuts were the complete package.
I was so gaga about the doughnuts that I completely forgot to photograph the mini eccles cake (£1.20) that we also sampled. The currant and warm spice filled pastry tasted like a buttery and flaky Christmas dream.
This is what a doughnut high looks like.
—
St. John Bakery
Arch 72
Druid Street
LONDON
SE1 2DU
Phone: 020 7237 5999
More doughnuts to devour on Gastronomy: