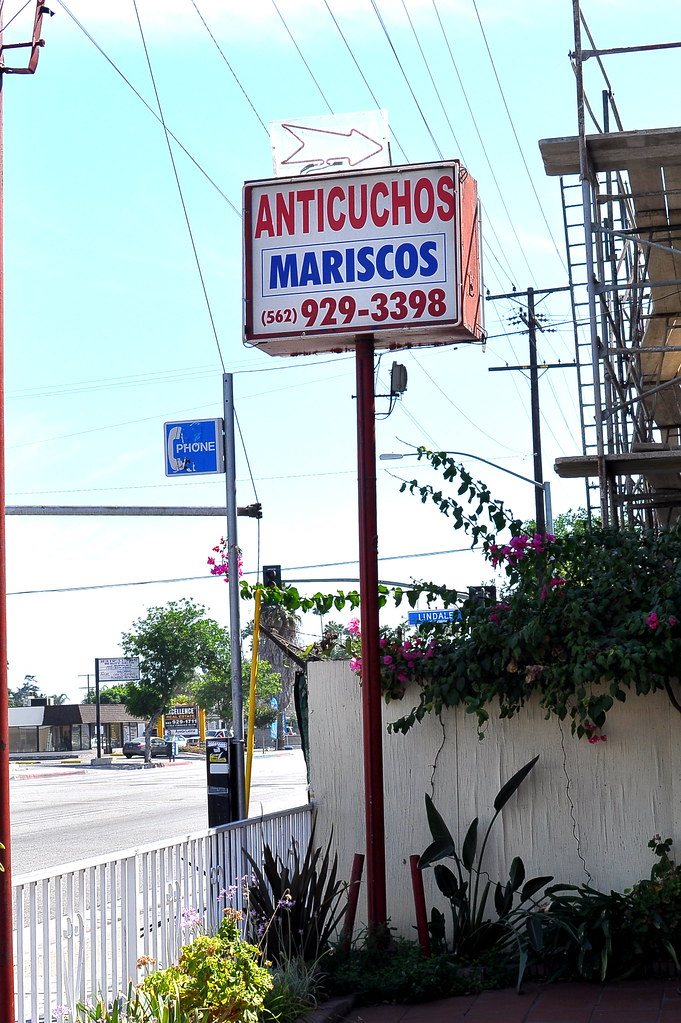 Anticucheria Peruana, also known as Anticucheria Danessi, may very well be California's first restaurant dedicated to anticuchos, grilled Peruvian skewers. In addition to the signature offal offerings, Mario Danessi's brightly lit and colorfully painted spot also serves mariscos, fruits of the sea prepared with Peruvian flare.
The Astronomer and I stopped in for lunch while exploring southeastern Los Angeles.
While we waited for our food to arrive, we couldn't help but admire the amazing mural spanning the entire length of the restaurant. It featured a multicultural cast chowing down on beef hearts, stomach lining, and Peruvian doughnuts. They were the happiest looking cartoon folks I'd ever seen.
The anticuchos de corazon, thinly sliced beef hearts seasoned in a wicked aji colorado marinade, are the restaurant's signature dish. While the heart of the matter was appealingly chewy, its edges were charred just so.
To dial up the heat, The Astronomer and I squeezed on a bit of the pale green aji verde and spooned on the rocoto sauce with scallions. Freshly fried potatoes and a sad cob of corn were served on the side.
The combinado de pancita y rachi redefined mixed grill with tender hunks of pork stomach and honeycombed beef tripe sauced in aji panca, a hot but not scorching Peruvian red chili sauce. I've got a thing for stomachs, so this heap of offal suited me just right.
After spying picarones, squash and sweet potato doughnuts, on the dessert menu, we made sure to save room for a sweet finish. Each fried-to-order ring was lighter than expected, startlingly crunchy, and drizzled in an irresistible caramel sauce made of brown sugar, cinnamon, and figs.
Grilled offal and doughnuts, what could be better? Nothing in my world.
—
Anticucheria Peruana
14351 Pioneer Boulevard
Norwalk, CA 90650
Phone: 562-929-3398
One year ago: Steelhead Diner – Seattle
Two years ago: Robata Jinya – Los Angeles
Three years ago: Pumpkin Gingerbread Trifle
Four years ago: Cơm Chiên – Vietnamese Fried Rice
Five years ago: Bún Gạo