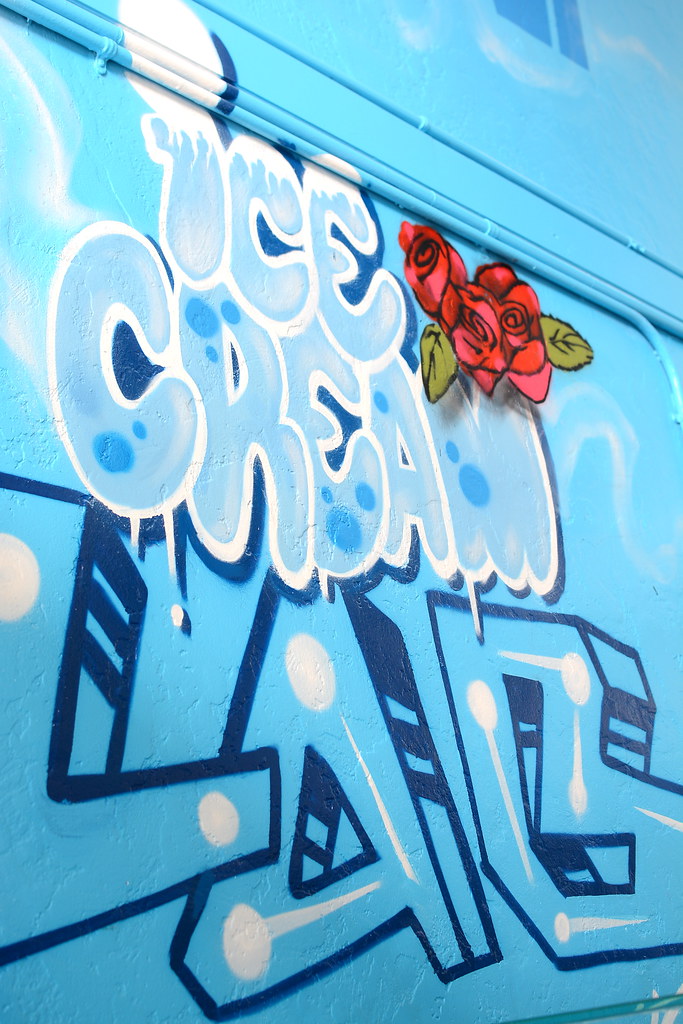 I scream. You scream. We all scream for liquid nitrogen ice cream!
Ice Cream Lab, which first introduced its made-to-order liquid nitrogen ice cream in Beverly Hills in 2013, recently opened a second outlet in my neck of the woods—Old Town Pasadena. The Astronomer and I swung by to check out the new kid on the block during its debut weekend. We cannot resist an intriguing food and science mashup!
The opening menu, which was more concise than expected, featured four "Classic" flavors (vanilla bean, chocolate, strawberry, and cookies and cream) and three "Signature" specialties. All are made with either a custard or yogurt base.
Once we settled on our flavors, the shop's "techs" used machines that looked like suped-up Kitchen Aids and -320 degree liquid nitrogen to instantly freeze the raw ingredients into ice cream. Very cool. Literally.
Note: The Astronomer, a scientist and proponent of safety, was surprised that the techs were not required to wear safety goggles and protective gloves. He feared for their eyeballs and exposed extremities.
We sampled five flavors this afternoon, including the ever-popular Blue Velvet Cupcake (chunks of blue velvet cake and cream cheese icing), Salt Lick Crunch (pretzel pieces, caramel and sea salt), Banilla (diced bananas, Nilla Wafers, and caramel), Cookies and Cream, and straight-up Strawberry.
Compared to traditional ice cream, these scoops had a lighter texture, like a whipped, airy version of Cold Stone Creamery.
Flavor-wise, The Astronomer and I both favored the Classics—Strawberry and Cookies and Cream. The former tasted perfectly tart and contained plenty of real fruit chunks, while the latter was well-balanced with awesomely crunchy Oreo bits. Whereas traditional ice-cream-making methods wilt the Oreo's texture, the fast-freezing properties of liquid nitrogen preserved the cookie's integrity. Score one for science!
There's admittedly a gimmicky element to liquid nitrogen ice cream, but there's no denying that the results can be quite tasty, and the process is definitely fun. Give it a go, at least once.
—
Ice Cream Lab
16 South Fair Oaks Avenue
Pasadena, CA 91105
Phone: 310-795-6505
One year ago: Yulin Comprehensive Market – Chengdu
Two years ago: {swoon} Choux aux Sésames at Pâtisserie Chantilly
Three years ago: Food & Wine All-Star Weekend: A New American Lunch at Sage (Aria Resort & Casino)
Four years ago: Kam Hong Garden – Monterey Park
Five years ago: Edgar's Old Style Bakery – Birmingham
Six years ago: Phở 79 – Alhambra
Seven years ago: Bánh Mì Thịt Nướng
Eight years ago: Cranberry Cornbread Mini Loaves