May 13, 2007
Cuisine: Asian Fusion
256 S 20th St, Philadelphia 19103
At Rittenhouse Square
Phone: 215-731-0900
Website: http://www.twentymanning.com/
–
Bread with Wasabi Cream Cheese (complimentary)
Pomatini – Ketel One Vodka, Pomegranate Juice, White Grape Juice, Sugared Rim, Frozen Grape (left) and Pinot Grigio (right)
Appetizer I: Ginger Soy Tofu Summer Roll – Rice Noodles, Lettuce, Tofu, Pickled Ginger, Seaweed Salad, Wasabi, Fresh Mint, Soy Dipping Sauce ($7)
Appetizer II: Organic Field Green Salad – Parmesan Cheese, Shaved Apple, Tomato Concasse, Sesame Olive Oil Emulsion ($7)
Entree I: Coconut Green Curry Stir Fry – Silken Tofu, Baby Bok Choy, Snow Peas, Chinese Guy Lan, Grape Tomatoes, Baby Carrots, Japanese Eggplants, Steamed Rice ($15)
Entree II: Grilled Free-Range Bison Burger – Melted pepper jack cheese, marinated grilled vegetables, fries ($15)
Entree III: Peking Duck Pappardelle – Shredded roasted Peking duck, mini bok choy, Portobello mushrooms, star anise broth ($17)
Entree IV: Crispy Wonton Soup – Homemade shrimp wontons, chicken consommé, carrots, snow peas, scallions ($7)
Entree V: Seared Big Eye Tuna – Red Bliss Potato And Haricot Verts "Nicoise Salad", Citrus Horseradish Sauce ($21)
Entree VI: Grilled Free Range Chicken – Roasted Red Bliss Potatoes, Stir Fried Mixed Vegetables, Whole Grain Mustard Honey Sauce ($17)
—
Our initial plan for celebrating Melina's 22nd birthday was to gorge on Rouge burgers alfresco (the birthday girl has a penchant for fine burgers). When the wait at Rouge turned out to be 1.5 hours because of their no reservation policy and our large group, we headed over to Brasserie Perrier hoping for similar bistro fare. We nabbed a sweet sidewalk table and settled in nicely until we learned that Brasserie Perrier wasn't offering their lounge menu due to graduation weekend. Down, but not out, we headed over to 20th Street—home to Tinto, Snackbar, Audrey Claire, and Twenty Manning. We eventually settled on Twenty Manning because the Bison Burger sounded delectable to the birthday girl.
We were seated outside and spread out nicely among three tables. Melina and Tara started off the evening with some adult beverages. Tara's pomegranate martini was not overly sweet and contained a good amount of alcohol. Melina's Pinot Grigio was excellent as well.
Both the Astronomer and Melina ordered appetizers, while the rest of us nibbled on bread with wasabi cream cheese. The Astronomer's summer rolls were inedible; definitely the worst food I've eaten in years. The copious amount of wasabi painfully seared our taste buds and made my eyes water profusely. We should have sent them back immediately, but after everyone took a bite to make sure the rolls truly were horrendous, there was hardly any left. Steer clear of the summer rolls! Melina reported that her salad was decent. The bread was good as well, but too tough and hollow for my liking. The mildly spicy cream cheese was a welcomed contrast after the brutal summer roll.
For my main course, I ordered the Crispy Wonton Soup from the appetizer section of the menu. The wonton's bland filling (half a shrimp), lukewarm and tasteless broth, and raw vegetables left me thoroughly disappointed. Chef Kiong Banh should learn how to make a traditional wonton soup before attempting any sort of "fusion" rendition. Perhaps he should intern at Ting Wong's in Chinatown.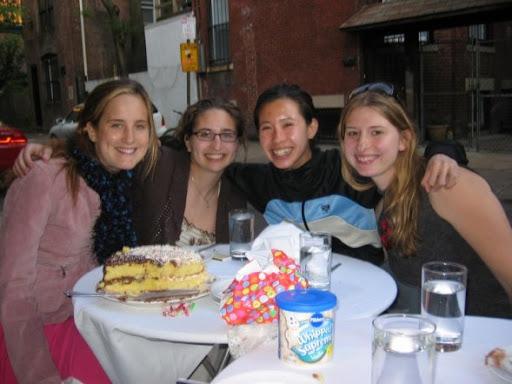 The Astronomer and Melina both ordered the bison burger. Melina said that the meat was very flavorful, but the burger overall wasn't spectacular. The Astronomer echoed Melina's sentiments completely. Mickey enjoyed his Coconut Green Curry Stir Fry very much, but the portions were more suitable for a model during Fashion Week than a spry boy. Ross felt similarly about his Seared Big Eye Tuna; the quality was good, but the portion size was obnoxious (see: 3/4 potato). Tara and Molly were the only diners pleased with their selections. Tara's pappardelle, which I ordered during my last jaunt to Twenty Manning, was delicious to begin with, but monotonous toward the end due to the noodle's gluey texture. Molly really loved her chicken and commented that the marination was fantastic. I tried some of Molly's bok choy and Japanese eggplant and was impressed by the unique flavors infused within the vegetables.
In conclusion, an inequality: P.F. Chang's > Twenty Manning. Ouch!