Not last weekend but the weekend before, I attended the most spectacular brunch hosted by Zoe Nathan, Josh Loeb, and Laurel Almerinda to celebrate the release of their brand-new cookbook, Huckleberry.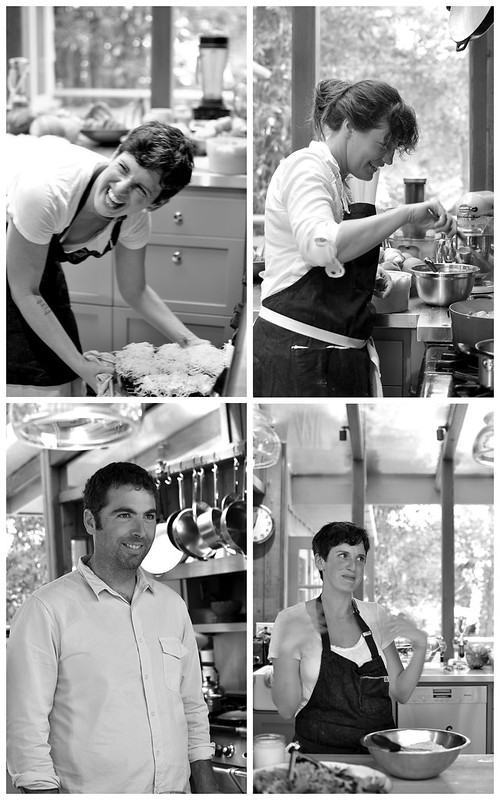 Inspired by their Santa Monica cafe and bakery, Huckleberry celebrates the bounty of breakfast. From pancakes to teacakes to muffins and egg-topped plates, this beautiful book has mornings covered (and then some).
Rather than host a traditional book talk and signing, Zoe, Josh, and Laurel dazzled a slew of Los Angeles' food writers with a seemingly endless parade of made-from-scratch delights from their cookbook. The spread was nothing short of brilliant, and I probably ate enough for triplets!
Of all the fabulous muffins (vanilla raspberry), biscuits (three-cheese rye), breads (fresh blueberry brioche, cinnamon sugar brioche), desserts (bacon maple bread pudding, chocolate chocolate teacake, lemon pistachio cake), sandwiches (croque monsieur, vegetarian croque), and beignets that I enjoyed this afternoon, my favorite was an unexpected savory number: the Cherry Tomato-Goat Cheese Cobbler.
Imagine blistered, sweet tomatoes topped with delicate biscuits and rich goat cheese. It was wonderfully simple and immensely satisfying.
As soon as I had a free weekend on my hands, as well as heaps of sweet tomatoes from the farmers' market, I had to try my hand at recreating it. I hope that you will too.
For biscuit topping
3 tablespoons whole-wheat flour
3/4 cup or 100 grams all-purpose flour
3 1/2 tablespoons cornmeal
2 1/4 teaspoons baking powder
1 1/2 tablespoons sugar
1/2 teaspoon salt
1/2 cup + 1 tablespoon or 130 grams cold unsalted butter, cubed
3 1/2 tablespoons cold buttermilk
For filling
5 cups or 900 grams cherry tomatoes
2 tablespoons extra-virgin olive oil
4 sprigs fresh thyme
1 teaspoon salt
4-6 tablespoons or 55-85 grams goat cheese
For egg wash 
2 egg yolks
2 tablespoons heavy cream
Pinch of salt
Make biscuit topping
Combine the whole-wheat flour, all-purpose flour, cornmeal, baking powder, sugar, and salt in a very large bowl. Stir to blend. Toss the butter with the flour mixture. Work the butter between your fingertips until the pieces are pea- and lima bean-size. Add the buttermilk and lightly toss to distribute.
Dump the dough onto a clean work surface. Begin by firmly pressing the entire surface of the dough with the heel of your palm. Toss and squeeze the dough to redistribute the wet and dry patches. Repeat, pressing thoroughly again with the heel of your palm, and continue pressing, tossing, and squeezing until it begins to hold together. But be sure not to overwork the dough! It should stay together but you should still see pea-size bits of butter running through it.
Press the dough into a disc 3/4 inch or 2 centimeters thick. Cut the dough into nine biscuits. Transfer to an ungreased sheet pan and freeze for 1 to 2 hours.
Make filling
Combine the cherry tomatoes, olive oil, 2 sprigs of thyme, and the salt in an ovenproof saute pan. Cover and cook over high heat until the tomatoes begin to soften, 2 to 3 minutes. Uncover and continue cooking until all the tomatoes burst slightly.
Assemble cobbler
Preheat your oven to 350 degrees Fahrenheit or 180 degrees Celsius.
For the egg wash, combine the egg yolks, heavy cream, and salt and whisk until homogeneous. Brush the tops of the frozen biscuits with the egg wash and arrange them, 1 inch or 2.5 centimeters apart, on top of the tomato mixture in the skillet.
Bake for 25 minutes. Remove briefly and quickly dollop the goat cheese between the biscuits over any exposed tomato. Return to the oven, increasing the temperature to 475 degrees Fahrenheit or 240 degrees Celsius, and continue baking until the top in nicely browned, about 10 minutes longer.
Serve warm or at room temperature, topped with the remaining thyme.
This is best eaten the day it's made.