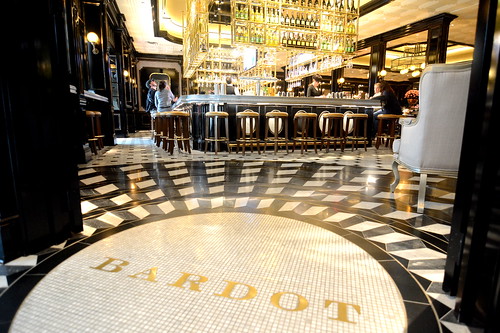 Sitting down to a boozy brunch with The Astronomer was one of the highlights of our weekend in Vegas. We've never been much into gambling, clubbing, or lounging by the pool. Dining and imbibing—that's #HowWeVegas.
After properly sleeping in for the first time in ages, The Astronomer and I rolled out of bed and headed to Bardot Brasserie for brunch. 
Located in the former site of American Fish, Bardot is the Chef Michael Mina's latest restaurant at Aria Resort & Casino. To create the brasserie's menu, Chef Mina and Executive Chef Joshua Smith drew inspiration from travels to Paris. The menu offers classic French fare executed with a thoroughly modern hand.
To start, fruity and bubbly concoctions—a peach bellini for him and a blood orange mimosa for her.
Continue reading 'Weekend Brunch at Bardot Brasserie – Las Vegas (Aria Resort and Casino)'