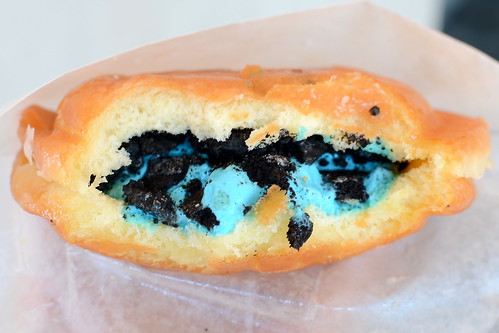 Meet the Milky Bun—a brilliant marriage of hot and cold, sweet and even sweeter.  Imagine a hefty mound of ice cream, embellished with crispety crunchity toppings, sandwiched between a warm glazed doughnut. I dare you not to swoon.
Dreamed up by Scott Nghiem and Andy Nguyen, the Milky Bun made its debut at Afters Ice Cream in Fountain Valley. The first location was so immensely popular that another outlet sprouted up soon after in Chino Hills. Most recently, the Milky Bun crossed county lines to a third store in Long Beach. That Milky Bun sure is going places…
For those who dismiss this concoction as a passing trend or gimmick, let me assure you that Milky Buns are the realest of deals. Get here. Get one.
—
Afters Ice Cream
18030 Brookhurst Street
Fountain Valley, CA 92708
One year ago: b.Patisserie – San Francisco
Two years ago: {swoon} Sea Salt Ice Cream with Caramel Ribbons at Salt & Straw
Three years ago: Dai Ho Restaurant – Temple City
Four years ago: District 4, Saigon: Our Home Away From Home
Five years ago: Mike's Pastry – Boston
Six years ago: Momofuku Milk Bar – New York City
Seven years ago: Sweet Onion and Anchovy Pastries
Eight years ago: Sampling Saigon's Snack Shacks
Nine years ago: Maggiano's Little Italy – Philadelphia