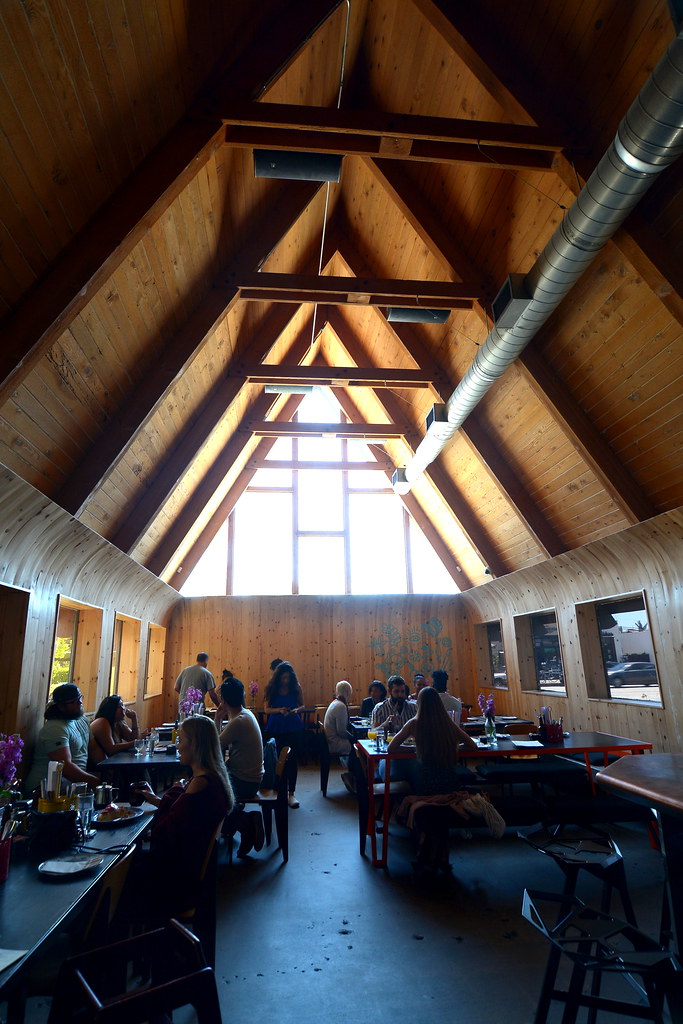 The Astronomer, June, and I are spending the week on Maui, so it feels like the perfect time to write about the weekend brunch at A-Frame, where Hawaiian grindz rein supreme.
After spending the morning on Venice beach building sand castles, burying feet in the sand, and splashing in the waves, we headed to A-Frame for brunch. I was initially concerned that the scene would be too boisterous for our gal, but I needn't have worried—June loved the music and vibe.
We placed our order soon after our behinds hit the seats, as parents of toddlers tend to do, and the food arrived quickly. An order of the Musubi Meal ($12) was a must. The protein changes from day to day; today's trio included Spam, Mochiko Fried Chicken, and Spicy Tuna.
The Furikake Kettle Corn ($7) was a little different from my last visit to A-Frame because we asked for a spice-free, toddler-friendly version. While I missed the heat from the chili flakes and the richness from the butter, June couldn't keep her hands off the mixture of sweetened popcorn and Corn Pops cereal. Well, I guess this is #adulting.
I just might have to whip up a batch of Chef Roy Choi's addictive popcorn at home soon.
The Astronomer ordered the "All You Can Eat Stacks" ($15), an endless parade of buttermilk pancakes served four ways with Lilikoi Butter (passion fruit), Banana Mac Nut Whipped Cream, P.O.G. (Pineapple, Orange, Guava), and Mochiko Fried Chicken. At the suggestion of our server, he ordered each plate of pancakes with a fried chicken spear.
First up was the Lilikoi Butter…
…and then the P.O.G…
…and lastly the Banana Mac Nut Whipped Cream. All three styles were excellent. The buttermilk base hit all the warm and fluffy notes, while the toppings each delivered a tropical hit. The passion fruit curd topping was especially delicious.
For me, the Breakfast Plate ($15) with house-made Spam, Portuguese sausage, scrambled eggs, two scoops of white rice, one scoop of macaroni salad, and a King's Hawaiian roll. I find Hawaiian breakfast to be incredibly comforting, and this version was irresistible.
The aloha spirit is thriving in Culver City.
—
A-Frame
12565 Washington Boulevard
Los Angeles, CA 90066
Phone: 310-398-7700
One years ago: Otium – Los Angeles (Downtown)
Two years ago: Slacker.
Three years ago: L'Atelier de Joël Robuchon – Las Vegas (MGM Grand)
Four years ago: Mumbai Ki Galliyon Se – Artesia
Five years ago: Le Bistrot Paul Bert – Paris
Six years ago: Dough – Brooklyn
Seven years ago: Chocolate Afternoon Tea at The Langham – Pasadena
Eight years ago: Churros Rellenos – Tijuana
Nine years ago: Salcedo Community Market
Ten years ago: Bánh Bột Lọc – Clear Shrimp and Pork Dumplings