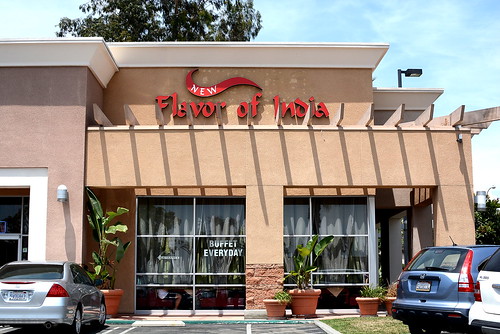 The Astronomer is not the jealous type, except when it comes to weekday lunches. While he and his colleagues dine at various sports bars across El Segundo, my co-workers and I are spoiled by the San Gabriel Valley's bounty. Lunchtime envy is real in our household.
In addition to fantastic Chinese and Vietnamese options in and around the office, there are solid Mexican restaurants and, as it turns out, Indian spots too.
Flavor of India, a relative newcomer to Rosemead, offers a $10 lunchtime buffet that my co-workers and I have been digging lately. Pro tip: Indian food comas can be seriously intense, so it's best not to schedule any post-lunch meetings when this spot's on the docket.
Included in the price of admission was warm and toasty garlic naan that was refilled to our hearts' and stomachs' content.
In addition to the steam table's various stews and gravies, there was a collection of accoutrements including pickles, chilies, a green salad, raita (yogurt), and the requisite tamarind and cilantro-mint chutneys.
For my first plate, I stuck to the vegetarian options including vegetable pakoras (vegetable fritters), saag panner (spinach with soft cheese), pickled carrots, lentils, and kadhi pakora (curry with pakoras).
While the paneer-less saag was kind of a bummer, the rest of the spread was well-spiced and very tasty. I especially loved the kadhi pakora. Even though I was quite sated after my first plate, I had to keep going because: BUFFET.
My second plate was a meaty powerhouse. In addition to more basmati rice, I piled on an awesome spicy chicken and jalapeno stir-fry that was reminiscent of Chinese steam table fare, chicken tikka masala, goat curry, and cauliflower curry.
I skipped the tandoori chicken this time, but my co-workers liked it very much. The goat curry, on the other hand, was too gamey for the table but just right for me. Mmm, goat!
The lone dessert option, a loose rice pudding, was too milky and not cardamom-y enough. Oh, well.
When Artesia's too far for a weekday lunch, New Flavor of India has it handled.
—
New Flavor of India
3684 Rosemead Boulevard
Rosemead, CA 91770
Phone: 626-572-7711
#LunchEnvy