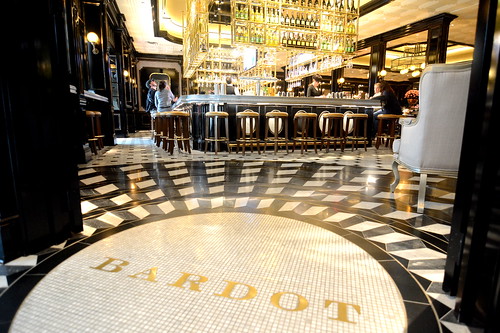 Sitting down to a boozy brunch with The Astronomer was one of the highlights of our weekend in Vegas. We've never been much into gambling, clubbing, or lounging by the pool. Dining and imbibing—that's #HowWeVegas.
After properly sleeping in for the first time in ages, The Astronomer and I rolled out of bed and headed to Bardot Brasserie for brunch. 
Located in the former site of American Fish, Bardot is the Chef Michael Mina's latest restaurant at Aria Resort & Casino. To create the brasserie's menu, Chef Mina and Executive Chef Joshua Smith drew inspiration from travels to Paris. The menu offers classic French fare executed with a thoroughly modern hand.
To start, fruity and bubbly concoctions—a peach bellini for him and a blood orange mimosa for her.

A most pleasant warm and toasty baguette with butter came on the scene as we sipped our cocktails.
And then there were a half dozen oysters, three from each coast, served with lemon wedges, cocktail sauce, and a mignonette. 
One of the most creative dishes on Bardot's menu is the "Escargots Bardot," little snails wrapped in puff pastry shells with toasted hazelnuts and Chartreuse garlic butter. We popped these addictive bites much too quickly.
The foie gras parfait with ruby port gelée was totally classic and absolutely divine. We slathered the velvety pate on the grilled country bread with reckless abandon. Glorious.
At the brilliant recommendation of of our waiter, we ordered the "Seasonal Fruit." While the fruit received top billing on the menu, the headliners on the plate were the frozen yogurt-pistachio parfait and hot-to-the-touch buckwheat beignets.
The sugar-dusted beignets were awesomely light and tasted unmistakably of buckwheat, while the parfait offered a rich, cold contrast. We definitely would've missed out on ordering this had it not been for our waiter. Whew!
To round out our spread, we shared the "Hunter's Waffle"—glazed duck confit, poached eggs, and Maltaise sauce, a blood orange juice-spiked Hollandaise.
To finish, two decadent desserts. First up was the "Chocolate Macaron," Valrhona chocolate mousse sandwiched between two super-sized macaron cookies with a drizzle of chocolate sauce and chocolate shavings. This one was seriously rich.
We also adored the classic "Mille Fueille," caramelized puff pastry with vanilla crème patisserie. We were both incredibly stuffed, but we managed to make room for each and every flaky layer.
Chef Michael Mina can always be depended on to deliver a solid dining experience, and our brunch at Bardot exceeded all expectations. The space was grand yet comfortable, while the service was smart and efficient. The food was fantastic from start to finish. We will definitely be back.
—
Bardot Brasserie
3730 South Las Vegas Boulevard
Las Vegas, NV 89109
Phone: 877-230-2742
Mmm…Vegas! Cha-ching.