Word of made-from-scratch, hand-pulled noodles at China Tasty lured me away from my cubical and to Alhambra for lunch the other week. While hand-pulled noodles are easily found throughout mainland China, noodle pulling specialists are surprisingly scarce in the San Gabriel Valley. Props to the L.A. Times' Amy Scattergood for unearthing this gem.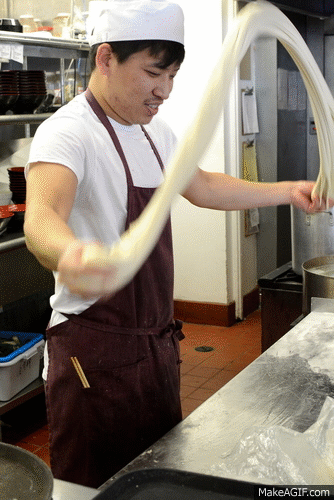 China Tasty makes four different noodle shapes. There's "standard round" (like spaghetti), "small flat" (like linguini), "medium flat" (like papperdelle),  and "triangle noodle" (like no other). Amy describes the lattermost as "kind of like the noodle version of laminated dough, pulled into layers and cooked until beautifully chewy." It was my favorite of the varieties we sampled.
First up was the "Szechuan Dan-Dan Noodle" ($5.99). We requested the triangle noodles to pair with this dish.
The slightly soupy dan dan mian was neither too spicy nor too numbing to distract from the star of the bowl: the noodles. The texture of the strands was as special as promised.
The strongest dish in our spread was the "Beef Noodle Soup" ($7.49) with medium flat noodles. The broth, fragrant with five spice and deeply beefy, begged to be slurped.
The wide and springy noodles were most satisfactory as well.
Next up was a duo of stir-fried noodles. The "Spicy Stir Fried Noodle" ($6.99) made with "small flat" strands was spiced with chili oil and dotted with bean sprouts, pork, and bok choy. The fermented black beans added a funky pop to each bite.
And finally, an order of the "House Special Sliced Noodle with Vinegar" ($7.49). These ridged knife-cut noodles were awesomely thick, and in spite of its vinegary billing, this dish was the mildest tasting of the four we sampled.
If you're a noodle lover through and through, China Tasty is most certainly for you.
—
China Tasty
1308 East Valley Boulevard
Alhambra, CA 91801
Phone: 626-457-8483
Neighboring noms: